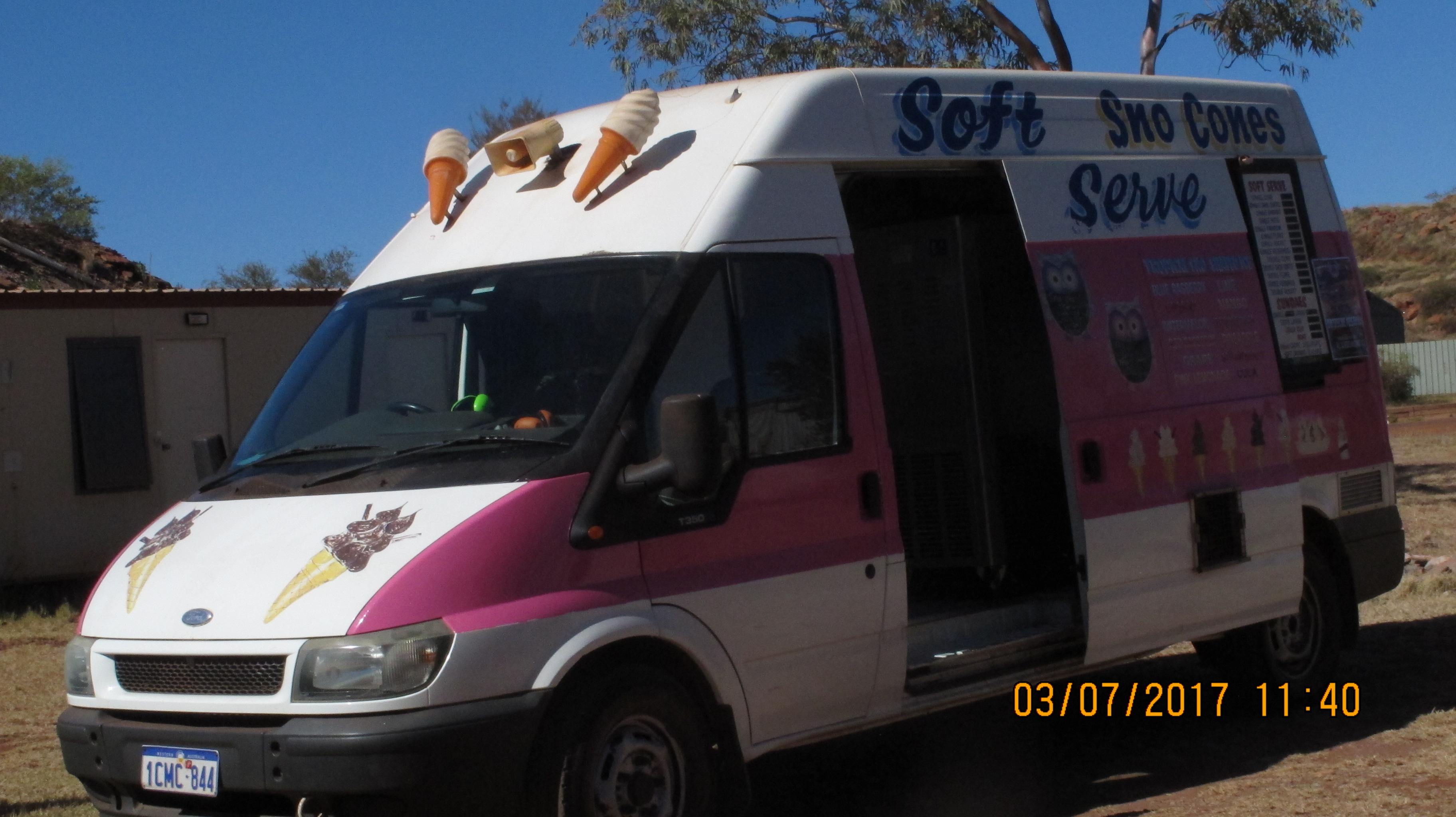 Again I cannot help but think how amazing our outback is. And what a way to see it – going out, interviewing, photographing and filming everything and everyone – well, OK, maybe not everything and everyone – we are having to be a bit more 'picky' in order to fit everything in. This last trip, which was the first of our documentary trips, was yet another one which was beyond expectations. We drove (or should I say, Steve drove) up to Meekatharra for the first night, sleeping in dongas, then out to Mt Augustus for the second and third nights. We had planned to do a lot of scenic filming but this trip ended up more as a reconnaissance trip than anything else. I guess it was a bit like my very first research trip – while I did achieve all that I planned to on that first research trip, it was also very much part of the mammoth learning curve that continued throughout and still does. 
Our second day saw us heading west out to Mt Augustus Park, Station and Rock. Like most of these roads, there are so many interesting things – all I wanted to do was take photos. We eventually reached Mt Augustus and had two nights there. We had planned to film the rock itself – but the learning curve came into play again and we decided to film with the drone that Steve recently purchased. It has now been slotted in to be included in Doco 4 – giving me a chance to contact the relevant people to gain the necessary authorisation for doing this. We took heaps of photos, walked a lot and discussed our next visit to Mt Augustus instead.
We left the station on Friday, 30th June, to return to Meekatharra. But somehow we took the wrong road – we were on the right one when we first left the station, but there must have been a choice early in the piece – and we took the wrong one. Neither of us can actually recall seeing a sign post of any sort – getting out to Mt Augustus was easy – the road was well sign posted. But coming back didn't seem to be quite so straight forward. The further we drove, the more I tried to see familiar things – like the Indigenous community which is near Mt Augustus, followed by the Landor Race Track and Mt Gould. But none of these things came up. Looking at my map, I found the road we had actually taken – which did take us about 75 ks out of our way – although the road did also seem to be well used. Naturally, we also passed sign posts pointing to other stations in the area and most of these appeared on the map – but not on the road we should have been on. 
Being on the wrong road – and, let's face it – pretty lost – usually would not have worried me. Indeed, I would have seen it as another challenge – part of this huge learning curve. And I normally would not have wanted to see the blacktop road at all – at least not until I was ready to, as this would have marked the road back to civilisation – and I usually do not want that. Not at all. But this time – this time, I did. We did take several other wrong turns on our way back to Meeka. I will say that all, or most, of the stations out there, were well signed – and this obviously helped to get us back to Meeka in one piece. At one stage, when we did realize we were on the wrong road, we were wondering whether to retrace our steps back to Mt Augustus, or try to work our way across country to rejoin the correct road. We decided on the latter – fail. At that stage – actually, at every stage while we were out there, I am so glad we had our 4WD (hired). Some of the roads we found in an effort to try the cross-country route were nothing more than bull-dust – and plenty of it. Some had water in them, others were just mud. We would have become completely bogged and stuck had we had anything but the 4WD. Ironically, these are roads that I normally absolutely love – but not that day!  But there's always a positive – sometimes it doesn't seem so at the time, but in retrospect, there is usually one. So, while it really didn't seem so when we were out there, in retrospect, for me at least, there were several. I have traveled around the outback of most of our states in Australia but had yet to see a real dingo in real life – and I know they are a terror in the outback, I really did want to see one. But during my research trips, not one came near us. I am sure there must have been some in the distance at times, but I was probably looking the wrong way. So, it took our first doco trip – and one ran across the road in front of us on our way back from Mt Augustus. Right there, right in front of us, as brazenly as can be! And then, a bit further on and we saw a camel. It was running along beside us! Looking forward to the possibility of seeing a lot more as we progress through the making of the documentary. Not so much dingoes or wild dogs – I've seen one in real life now – happy not to see any more. Particularly as I am very aware of how much damage they do.
Anyway, after that we decided to stop trying these side roads and stuck to the one we were following. It did eventually take us back to the Great Northern Highway. And yes, for the first time ever I think, I was actually relieved to see the blacktop. 
So we finally made it back to Meekatharra. After a yummy counter meal at one of the local pubs, we settled down in our respective dongas and had a good night's sleep. An early start next morning saw us grabbing coffee from one of the local service stations, before heading north to Newman.
The drive up to Newman was as interesting as all the other drives I have done around the outback of this wonderful nation. We crossed the Tropic of Capricorn as well as the 23rd Parallel and signs to stations, most of which bore familiar names and were usually a couple of hundred kilometres away. 
More about Newman and the rest of this first part of the doco next blog.