Arrangements for the Qld leg of the research trips for our book are well underway – and again – I am really looking forward to it.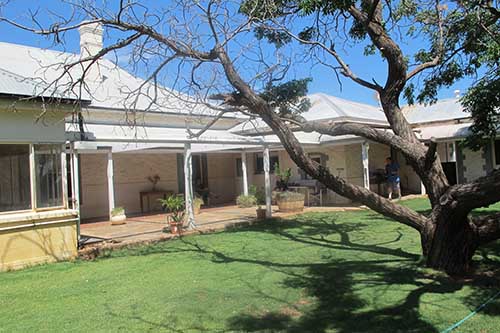 Before I continue, a big welcome to the new stations which have come onboard, along with a lot of people who have visited stations – and towns in the outback – for holidays/work and have come from other properties, towns, cities and/or other nations. Having spoken with some of these people, face to face when I passed through Blinman, Broken Hill and Cobar – their feelings about the outback and their visits/lives out there are really interesting.  There are so many people coming onboard who I will be contacting by email or phone that I am now putting together a template to send to all of them.  Hopefully, it will be the easiest and safest way to make sure that everyone who wants to participate is definitely included.  

I am able to include some of the new stations in my 'station visits' but the rest will now be covered by mail, phone and email.  But rest assured, you will all be included – even if it takes me a while.

At the end of the SA/NSW leg I flew home from Sydney and threw myself into organising the re-visiting of many of our wonderful retired pastoralists.  This is now underway – but instead of 'formally' interviewing all these people, I am simply asking them a few questions and taking their photographs and obviously giving them a chance to ask me whatever they like.  I had originally sent all those who had agreed to participate in the book, one of the station packages which included a special questionnaire, put together for the retirees themselves.  Many completed these and returned them quickly which is fantastic – and I have met a lot of these people and been given an amazing amount of information about their lives and histories as well as histories of their stations.  All just so interesting.  

I still have two (maybe three) stations in the Northern Territory which I hope to visit sometime in November.  At this stage, not sure when I will begin the WA stations – had hoped for the end of this year but I plan to cover them in a couple of stages and it might be early next year.  Remembering all the time that I am a 'lone soldier' doing this.

My trip to Qld commences when I fly to Townsville, via Brisbane, at the end of August.  I then take a coach west to Mt Isa, stopping for one
or two days at six stations en route (all going well), then back down to Brisbane, stopping at one station.  From Brisbane I travel by coach up the coast, through Townsville, stopping at Australia Zoo briefly (relying on memory here) before arriving at Cairns.  Another coach takes me from there out to Karumba on the Gulf of Carpentaria.  I have three further stations along that route.  Spend a day or two in Karumba before returning direct to Cairns and finally flying home, at the beginning of October.  Yes, it's a tight schedule – also a challenging one and I continue to thrive on all this.

As I travel along this amazing road, new aspects/suggestions/thoughts are forever being put to me.  Not long after I returned to Perth from the SA/NSW leg, I was interviewed (at 2.30 am one Saturday…AAAAGGHHH) by The Social Network Station in the USA.   The purpose of this was to be questioned about the impact of the internet and social media on the people in the outback.  I managed to speak with quite a few people about this, during that first leg and the answers were very interesting – and varied.  Coming from different generations too.  But from what I have heard the people in the USA seem to have somewhat of a fascination for our mighty outback and I have been sent more questions – all about the outback – things that I had never thought about – and completely unrelated to the 'net and social media.  But all so wonderful.   There is interest there and I will make use of this opportunity for all it is worth.

And as is well known by now, I will do almost anything to help expose this book – to help these amazing people and our mighty outback.

Stay tuned.