Five years 'down the track' and 'Red Dust Dreams' has finally gone to publication and I am looking at trying to organize a major launch for it, while also 'working' on plans for the documentary of the same name. I also plan to return to the work force on a part time basis in 2017 (preferably a job based at home which involves lots'n'lots of writing), I am involved with quite a few community groups and I have plans to start an online business. Then there are my mother and grandmother duties along with much more. And all so good.
Have to say that I do feel a tad 'odd', though. Sort of surreal – in the nicest possible way. I have thrived on doing the research for this book – such an amazing way to travel the nation and see the outback – going well off the beaten track has taken me to places that I had only ever heard about. I have now seen a lot of that huge expanse that is most of the landmass that is Australia – but there is always more to see. Much more.
It has been the most wonderful learning curve too. Every day I learned many new things – some good, some not so good. I also met some fantastic people, both those on the stations as well as those who are participating but live in the cities or other nations. Have had some incredible experiences – again some good and some I would rather forget. Have also ticked some items off my bucket list. I have finally seen crocodiles in the wild (both freshies – croc-speak for freshwater crocodiles – these are the 'safer' ones as well as saltwater – these are deadly). I finally flew in a small plane (ok it was still a commercial flight but the smallest plane I have been in) and a helicopter – LOVE this last one.
Conducting the research has been one of the best experiences I have ever had. One aspect that I have tried to help to capture both through the book – and hope to continue with the documentary – is some of our outback history, some of which is currently in very real danger of being completely lost. Everywhere I traveled I saw old chimney stacks, the only reminders of homes from days gone by. There were also some ruins of houses in some areas but it was these chimney stacks that are to be seen everywhere. What stories they could tell.
Something really good which seems to have been triggered through doing this is that it has inspired some of the stations people as well as a few of the retired pastoralists to record their own histories, both of their own lives and those of their families as well as the station. All recording history, which as I say, has been in danger of being lost and gone forever.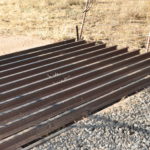 There are also many aspects which have surprised me during my travels. One of these seemed to be the different 'language' between some of the states. Or maybe it is pure ignorance on my part. What I have grown up to know as one thing seems to have quite a different name in other places. For instance, I have always known a dam (water being stored – if there's enough water – in a large hole in the ground which has been dug out by a grader and is surrounded by very hard dirt banks) is called a 'turkey's nest' in at least one other state. This was explained to me but for the life of me I cannot remember the difference. It will always be a dam to me. 'Ramp' is another one. I have grown up knowing them as ramps and not 'grids' as they are known in some other states and are actually becoming known increasingly nationwide and grids. Probably a lot more if I really think about it but one last one is a 'drop and drag' gate. We have them on Pitcairn and they could possibly be called this but I have never actually known the name for them – so now I do say 'drop and drag'. They are quite common on rural and remote property nationwide. Most wire gates are encased in metal, making opening and closing easy, the 'drop and drags', while still made of wire, they are not encased so can cause quite a challenge to close and open.
Many doors have opened for me and I have met many other people that I never thought I would meet. It really is the most extraordinary road and one I continue to enjoy.
Thank you.