Sadly my final research trip has finished. It's all over. But there is still just so much of the outback to see. I have been home for all of two days now and have already started checking out coach tours for the Gibb River Road, the NT., Cape York and – well, lots'n'lots more. Yes, I have covered a heck of a lot of our mighty outback of SA., NSW., Qld., NT and now WA but I feel I have only had a 'taste' of all that can be seen and experienced. Once the book is 'safely out' I am looking forward to seeing all the above over the coming couple of years.
Speaking of coach tours, I do thank the wonderful Casey Australia Tours, particularly our own crew, Barry, our driver and jack-of-all-trades and Jaye, our guide and jill-of-all-trades for, well, everything. I cannot single anything out as it was all just so good. So much fun. I am hoping to travel with them again for all or most of the above-mentioned trips. Beware. Be very ware!

But, for now and for the book, the research trips are all over. This final trip, up to Mt Augustus, lasted just five days. But they were some of the best five days I can remember – apart from all the other research trips spanning the nation. I have now travelled by air, by coach (but this was the first actual coach tour that I have done), by train and then hired a car to drive myself and I have also driven my own car. And for my very last trip I decided that a full coach tour would be the way to go. And it was. Just so good. So many amazing memories and my travelling companions were a lot of fun – lots of laughs and a good time seemed to be had by all (or most) on board. Our agenda was absolutely jam packed – so much so that my actual reason for travelling at all – to meet and chat with/interview the owners of the station – didn't happen. No-one was at fault. As does happen with stations, the owner was helping to muster on another station at the time of my visit and as always at such times, he was working very long hours. The other 'problem' was that, as mentioned, we had a lot crammed in and I didn't want to miss any of it!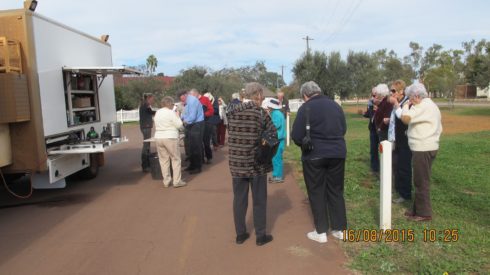 Mt Augustus, provided they are still interested in being included in the book, will now be covered by email, so they won't miss out.


Our tour included visiting (or driving through) New Norcia (where we had our first morning tea from our mobile kitchen – see image), Dalwallinu, Wubin, Payne's Find, Mt Magnet and Cue – our first night was spent in the pub in this last town. All these places were new to me so yet more fantastic sights to see. We had lunch at Meekatharra on the first day – and we also pre-ordered our lunch there for the Wednesday, when we were due to return. We were also advised to stock up on anything we might need while out at Mt Augustus as this was our last 'town stop' before turning west onto gravel roads, heading to the station.
Off we went again, through to Mt Gould Police Station and lockup, where we had afternoon tea, provided by Casey's and which came from our mobile kitchen – which was housed in the trailer we were pulling behind us. I had never seen such a set up; this kitchen had everything. Food, drinks, more food, cooking equipment, food, cleaning equipment, food, tables and chairs, food, eating implements – oh and did I mention food and drinks? In other words, they were prepared for anything and everything.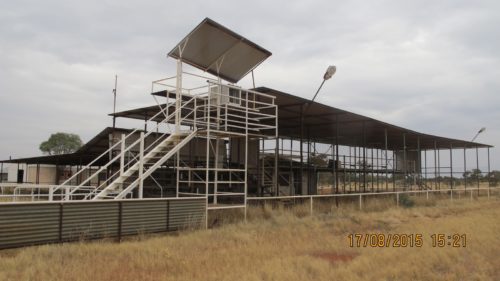 After lunch we were on our way again. A quick break at the Murchison River before stopping for afternoon tea at the Landor Station Race Track, famous for its outback race meetings organised by the East Gascoyne Race Club. An amazing place. Another outback race venue that, to me, really does give the Melbourne Cup, a run for its money.
Off to Mt Augustus. Our accommodation was in the form of dongas here! I've read about these and did see some on another station in WA, but sleeping in them was yet another first for me! We had two nights here. I even shared mine with a lizard – it was on the wall when I entered, then hid and stayed that way for the duration. We also shared our bathroom with small frogs – all part of the fun.
Next day, it was time to see some of the sights on the station, at the rock itself and in the national park. What a place! First we visited Edney Spring, followed by Flinstone Rock. And then a quick dip (for a few) in Cattle Pool or a walk along the bank of the Lyons River. We saw and heard hundreds of wild budgies here – really lovely. After lunch we were given a bit of 'free' time so this was when I tried to do what I was supposed to be doing – meeting the owners – but not to be. Later in the afternoon we visited Emu Hill Lookout which offers a superb view of Mt Augustus, the rock itself, particularly beautiful at sunset. However, it was very overcast for our visit but what colours we did see were really lovely.

Another early start next morning and we were on our way home. However, it seemed there was more to see, including the magnificent Walga Rock – and there we were extremely lucky in that the wildflowers had put on the most spectacular display – just for us. So beautiful, particularly backed by the rock. 

Onto our 'last supper' – a BBQ in front of the ruins of the old pub in the ghost town of Big Bell, before heading back to Cue and our hotel. At the end of the next day we were due to arrive home, but it seemed Jaye and Barry had other ideas with yet more things to show us – I loved all of it. First of these stops was at the Joker's Tunnel – there was a bit of a walk/stumble to reach it but then most of us went through, in single file and in the pitch black. Making a heck of a lot of noise, laughing a lot and scaring the wits out of a bat which I understand took off out of the tunnel in a heck of a hurry. Goodness knows what else there was – but no snakes as far as I know and in this case, I think ignorance might have been bliss! Our very last couple of stops were one for photos when we passed through more superb wildflowers and this is also where we saw the superb Wreath Flower. The second and last stop was for lunch in Morawa. 

From there we made our way back to Perth via some true back roads – I loved every bit of it. We saw the very distinct line separating the stations from the farming land.

Jaye and Barry are to be congratulated for their efforts (is that a word??). They are both wonderful people who proved themselves to be extremely capable. Thanks guys. I do look forward to seeing you on future trips. Again – beware. Be very ware.

I remain hopeful that Mt Augusta will still participate in the book but if not, there is a lot more detail to most of the above that should be included and will be. But that's in the book.